Ladies, it's time to talk about lube.
In our opinion there isn't a sexual experience that can't be improved with a little bit of extra lubrication (honest… we've tried them all).
For starters, it can make sex more comfortable, especially when you're feeling a bit dry down there.
And those dry spells are way more common than you might think. In fact, dips in oestrogen levels throughout a woman's monthly cycle can mean she is naturally less lubricated. Who knew?
The right lubricant can also give you the confidence to be more creative and try new things. And most important, it makes things more fun!
Read on to discover 6 reasons why it's time you got to grips with lube.
1. It gets things moving
We've all been there. You're about to get down with a partner you're really into, but 'down there' doesn't seem to have got the memo.
There are loads of reasons why you might be a little dry, and all of them are completely normal. Remember ladies, vaginal dryness can happen at any age, and at any time. You might be feeling a bit anxious or stressed out, maybe you're at a funny point in your monthly cycle or just finished a course of meds. And sometimes it just takes your body a bit longer to catch up with your head.
Whatever the cause, lube can help. It keeps things moving in the right direction, so you can focus on just being present and enjoying the moment. And more importantly it can make things feel so much better.
If your partner is particularly well-endowed, or if you are on the smaller side, lube can also help you ease into things. And it's always good to have some lube on hand if your trying something new, or if you're less sexually experienced.
2. It makes foreplay more fun
Think lube is only for the main event? Think again. Adding a little lubrication early on is a great way to get things off to a good start.
There are loads of imaginative ways to use lube in your foreplay routine, but we're particularly partial to a sensual massage.
Set the scene with some relaxing music and mood lighting, and then choose your favourite massage gel or lube. Warm it in your hands and then slowly work your way over your partner's body, taking time over every curve and contour. We like to start with places that hold tension, like the shoulders neck and back, before moving down to more intimate areas.
3. It can be used with sex toys
The great thing about lube is its versatility. It's great with one person, lots of people, or even when you fancy a little 'me time'.
One of our favourite ways to use it is with sex toys. Applying some lube to a vibrator can add a totally different fluid dimension to masturbation, helping you to climax more quickly and play around with new sensations and experiences.
It's worth noting that any sex toy or vibrator that's made of silicone will need a water-based lube as silicone-based lubricants can deteriorate soft rubber.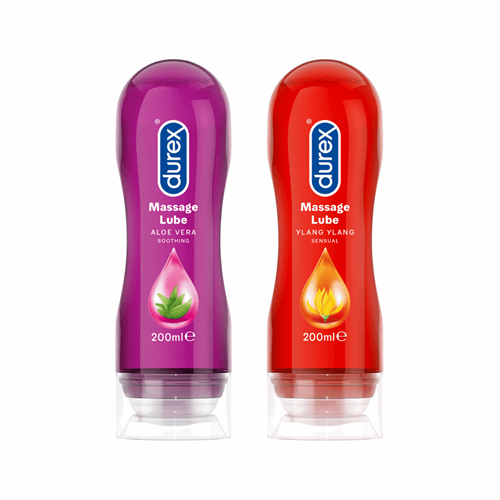 4. It helps you to keep going longer
As much as we all love a hot, spontaneous quickie, (and we really do), nothing beats those long, passionate sessions where time and your inhibitions go out the window and you really, let go.
To make sure chafing and dryness don't spoil your fun, lube is a must. It helps keep things nice and fluid, so you can switch between positions, try new things and enjoy every single minute.
5. It can stop condoms breaking
You might not think you need it, but using lube with a condom is actually a pretty smart idea. Lubrication helps to reduce friction which is a key factor in condom breakage. If used correctly, condoms are 98% effective against stis and unwanted pregnancy, so it makes sense to make sure they work.
6. It's good for women and men
Lube isn't just for the ladies. It makes sex better for the lads too. One of our favourite tips is to lube up, before you go down. It can be hard to muster enough spit to fully lubricate oral sex, so lube can be a real gamechanger for both sexes. For added spice, try a flavoured lube and really get things going.
Here at Durex we think we all deserve to have great sex, which is why we've made sure we've got something for everyone. From lubes that tingle and tantalise to the simple pleasure of our Naturals Gel Lube, we've got you covered.
So what are you waiting for… Ladies, let's lube!
RB-M-07843